Useful Links
The Best Resort
We booked the 4 cabins for 10 days could not have asked for anything better. Rena and David were great hosts so helpful . The cabins had everything in them so clean and well kept also the bq area with spa and sauna were great we spent most off our time in there . Our cabin had a spa also it was the best One of our party got sick and Rena and David were so kind asking after her every day Thanks for a fantastic break we will recommend your resort to everyone . we will be back
by margaret on 24 March 2016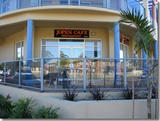 The two storey complex hosts a six room motel, coffee lounge restaurant, four retail outlets and upstairs six comfortable luxurious units.
The Coffee Lounge Restaurant offers the finest in dining experiences in the local area. It caters to a range of Modern Australian Gourmet food, specialising in fresh local seafood including lobster. The restaurant can cater for up to 70 patrons at once with seating for 30 inside and 40 outside, and therefor can cater for most functions or parties. The restaurants menu is also available to anyone staying at one of Jopens motel rooms or appartments as part of the room service, delivered to your door.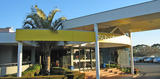 Two venues to choose from offering sports, bowls, entertainment and fishing.